Dr. Linda L. Isaacs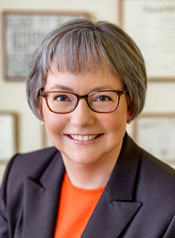 Linda L. Isaacs, M.D., received her Bachelor of Science degree from the University of Kentucky, graduating with High Distinction with a major in biochemistry. She was elected to Phi Beta Kappa. She subsequently received her medical degree from Vanderbilt University School of Medicine in 1985. She completed a residency in Internal Medicine at the Department of Veteran's Affairs Medical Center at New York University Medical School, and is certified in by the American Board of Internal Medicine, completing the recertification process in 2001 and in 2011.
She and her long-time colleague Nicholas J. Gonzalez, M.D., met in 1983. During the last 24 years of his life, they worked in the same office, spoke daily about patient care, and collaborated on two research projects, three articles published in scientific journals, and a book, The Trophoblast and the Origins of Cancer. Since his untimely death in July 2015, she has dedicated herself to continuing the work they both shared.
She is active in Toastmasters International, winning the District 46 Table Topics (impromptu speaking) contest in 2005, and was named the 2014-2015 District 83 Area Governor of the Year. She completed her Distinguished Toastmaster award in 2016.
While she claims no particular expertise with growing African violets, she enjoys having them brighten up her office.